Our brand awareness Hardware Lock difference restricting development of the industry
Author:root hardware
Release on :2016-01-09
Hardware lock is a traditional industry in our hardware products industry
,
Under the background of economic globalization, and strive to change the lock industry development ideas, to meet different levels of consumer demand at home and abroad
,, to achieve
Locks
Sound and rapid development.
Hardware Lock
Related to each of our family unit and safety in public places, with the progress of the times metal locks of different varieties styles, materials, structure and function abound. 30 years of reform and opening up, China's hardware lock industry scale has grown continuously expanding product coverage, gradually stronger corporate brand, industry competition is heating up. At present, China's most important production base for hardware locks concentrated in Zhejiang and Guangdong, the product range,
padlock
Spherical lock,
Handle Lock
And so still has a larger market space, but also with the special purpose lock products upstream product development is changing, intelligent lock, building intercom supporting life has become a modern society indispensable functional products.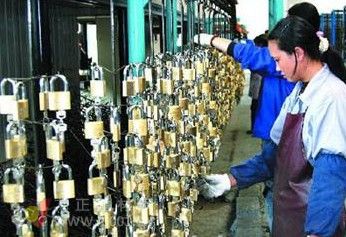 Our metal locks companies need to regain confidence rid of "work" tag
Seemingly insignificant little hardware locks, in fact, bears a huge gold mine. China's hardware lock industry sales of about 60 billion yuan, yield more than 2 billion, has become the world's largest hardware lock products producer and consumer countries, and the formation of Zhejiang, Guangdong, Shandong and three major production bases. Padlock products from mainly developed to have 20 categories over 100 series over 8000 varieties and specifications; from traditional single tongue locks, double tongue locks developed to spherical door locks, handle locks, mortise door locks, electronic locks, magnetic card lock, IC card lock, auto lock, motorcycle lock, lock, digital locks, etc., to expand integration, intelligence and direction of combining functional and decorative electromechanical, basically forming a high , medium and low-grade products supporting system. According to customs statistics, in 2012 China's hardware lock products are exported to 208 countries and regions, the cumulative exports reached $ 5.229 billion. However, the lack of brand influence, the average price of Chinese hardware lock is only Britain and the United States 1/15. And after China OEM hardware lock products to international brands, prices generally rise to ten times the original price. Brand awareness is poor, is China's hardware lock industry a common phenomenon. Its most direct manifestation, is the lack of investment in research and development enterprise for the design, purchase advanced equipment and tooling, training professionals and service and other aspects, has seriously hampered the development of the industry. Brand awareness is poor, making business development ideas become narrow, not extend the industrial chain is difficult to form products supporting, series development. A lack of brand awareness in the industry, it is difficult to create a brand. Currently, domestic enterprises basically in the state alone, the market is always in the midst of scattered development, most companies become international brands for OEM production of "work" enterprise. Production of metal locks and other traditional industries as has a long history. China's hardware lock industry has no shortage of advanced design, high-quality products, with advanced countries comparable. Today, we have to do is to regain confidence, focus on technological innovation and product innovation, accelerate the implementation of brand development strategy, efforts to promote the transformation and upgrading of the lock industry. Doorknob supplier